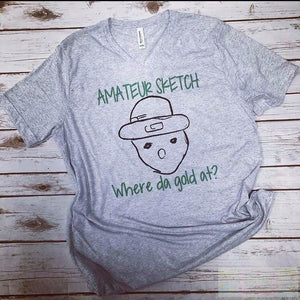 Who all seen the Leprechaun, say YEAHHHHHHHHHHH!  We just wanna know where da gold at???  This Amateur Sketch tee of the Crichton leprechaun is a MUST HAVE! Design is shown on a Bella Canvas Ash V-Neck.
 Sublimation/Polyester
*Please allow 14 business days for this order to process.

**If this item is out of stock, we will contact you to determine size/style/color change so that the order may still be processed.
***Shipping carrier delays are out of our control.